Scooters are the most common means of commuting in urban Nepal. They are light and provide an adequate amount of power to the rider to cover a certain distance in certain terrain. Riding a scooter is easy and convenient as one does not have to worry about the weight or about the gears.
Likewise, electric scooters are no different. They once used to look dull, cheaply built and have very less specifications, which is not the case anymore. Electric scooters are no longer boring and outdatedly designed. They, in contrast, are in fact one of the best-designed scooters on the market right now.
With the price of fuel skyrocketing right now, switching to electric scooters seems more practical. There are more than 15 EV brands and over 60 electric scooters model available in Nepal at the moment. If you are trying to get one yourself, we will help you with the list of the best electric scooters available in the market right now.   
Price list
SN
Scooter
Price
1
Yadea G5
Rs 330,000 (Lithium battery)
Rs 190,000 (Graphine battery)
2
Super Soco CPx
Rs 459,900 (Single battery)
Rs 589,900 (Double battery)
3
NIU NQi GT
Rs 445,000
4
Lvneng LX06 max
Rs 559,000
5
Pure EV ePluto 7G
Rs 275,000
6
Doohan Uranus
Rs 321,900
7
Hero Optima
Rs 209,600 (Single battery)
Rs 309,600 (Double battery)
8
Segway E125
Rs 390,000
1. Yadea G5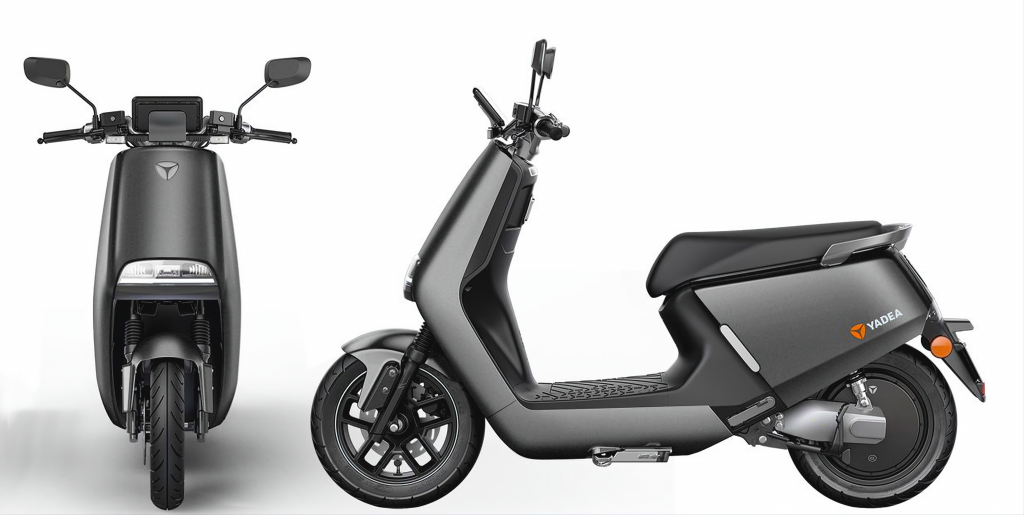 Yadea has plenty of ammunition in its arsenal and is one of the best electric scooters on the market right now. Yadea G5 is probably the best offering from the company. This electric scooter offers bold and futuristic looks along with a beauty that gives it a premium touch.
As one of the best scooters in the market, the scooter features a seven-inch VA LCD speedometer with an automatic light adjustment feature. The 32Ah Panasonic Lithium battery on the scooter allows it to have greater power and range than other Yadea scooters. This battery takes around six hours to fully charge and provides a mileage of 80 km with a maximum speed of 60kmph.
Specifications
Dimension
Length: 1810mm
Width: 700mm
Height: 1150mm
Wheelbase: 1270mm
Ground clearance: 160mm
Electromotor
GTR 3.0
Max power
2300W
Top speed torque
120Nm
Battery
Panasonic Lithium
Voltage
60V
Capacity
32 AH
Top speed
60kmph
Range
80 km
Charging time
6 hours
Brake
Front: Disc
Rear: Disc
Storage box capacity
26L
Tyre
12-inch tubeless
The price of the Yadea G5 is Rs 330,000.
You can also get the same model at Rs 190,000, but instead of a lithium-based battery, you will get a graphene-based battery. The warranty period will remain the same (two years). The battery life is also said to be higher on this one compared to the lithium-based, but the range will fall down to 50-60 km only.
2. Super Soco CPx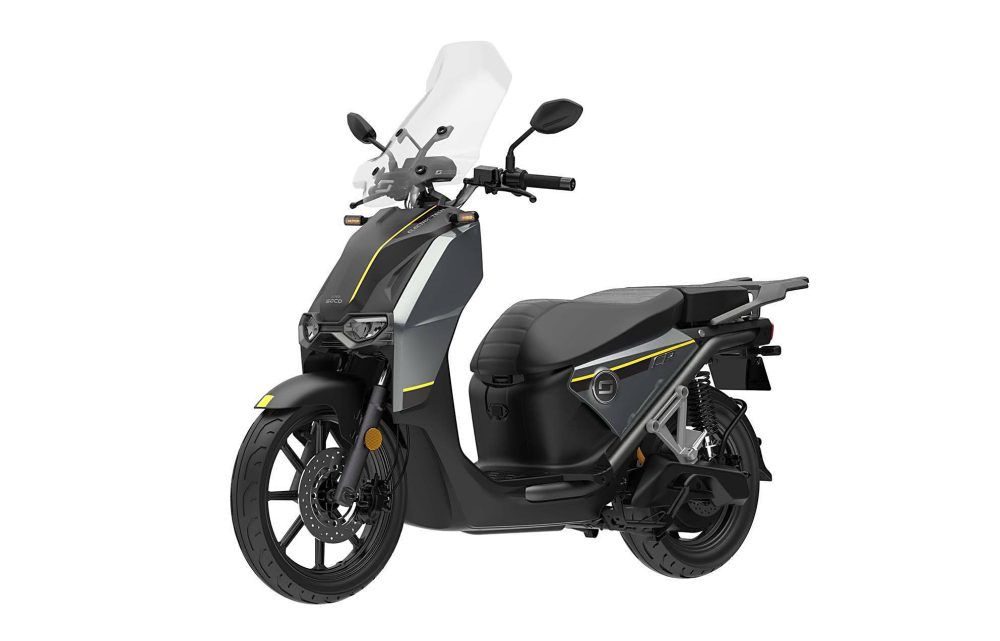 Super Soco is one of the best brands when it comes to electric scooters. Among the many two-wheelers from the company, the CPx is a premium version of the electric scooters. This is powerful, good-looking, faster, and bigger than most electric scooters available in the market. It surely makes a large road presence but is capable of commanding its way through the traffic.
It also has a one-push reverse switch for easy movement out of the traffic or dead ends. Other features include its 16" tubeless tyre, remote key, anti-theft alarm, USB charging port and storage space, extra-large seat and disc brakes at both ends. It also has keyless ignition and wheel locking function. It supports a dual battery that can last up to 137 km when charged fully. There is also a windshield that gives a different personality to the scooter.
Specifications
Dimension
Length: 2,022mm
Width: 790mm
Height: 1,442mm
Ground clearance: 154mm
Seat height: 760mm
Tyre
Front: 100/80-14
Rear: 110/80-14
Battery
60V45Ah Lithium-ion
Motor
Super Soco
Torque
46.5Nm
Top speed
90km/hr
Range
137 km (on dual battery)
Charging duration
3-4 hours
Vehicle weight
107 kg
The Super Soco CPx is priced at Rs 459,900 for the single battery variant and Rs 589,900 for the double battery variant.
3. NIU NQi GT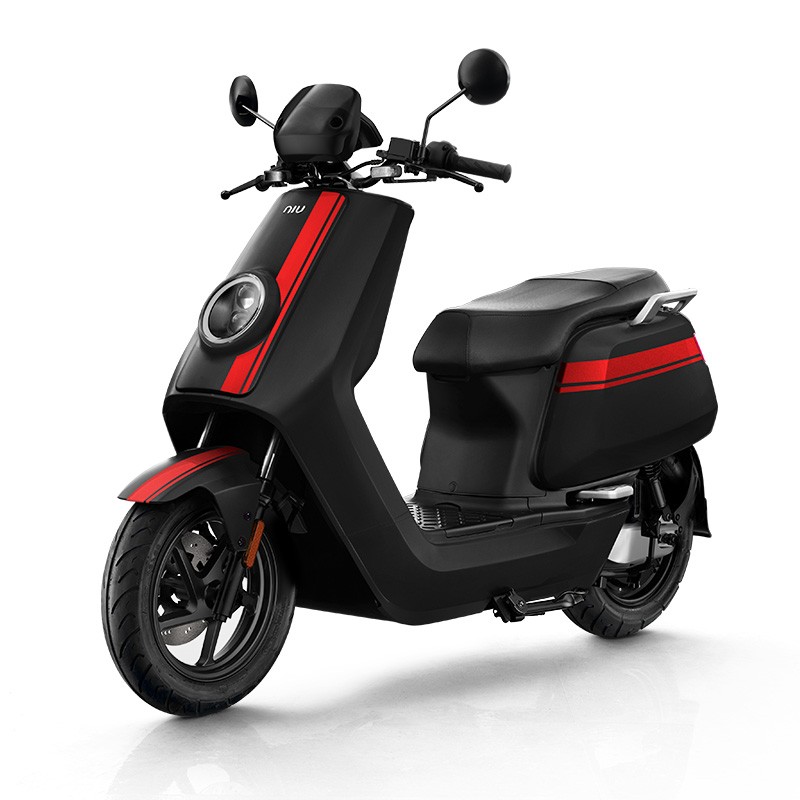 NIU has always been one of the most popular electric scooters in Nepal. NQi GT is the most powerful NIU scooter currently available in the market. The looks, power figure and features on the scooter provide the user with a premium feel. The scooter comes with three unique driving modes: sport for maximum speed and performance, dynamic for everyday use, and E-save for longer range and greater efficiency.
It comes with a 60v35aH battery pack that is good enough to provide up to 110 km of range, and in the E-Save energy-saving mode, the NQi GT's range can extend even further. Riders can reach a top speed of 75kmph in sports mode.
The NIU scooter also has a Cloud system that allows riders to use an app to access multiple vehicle statuses such as location, riding history, vehicle diagnostics, anti-theft alerts, after-sales service info, and power statistics in real-time.
Specifications
Dimension
Length: 1815mm
Width: 740mm
Height: 1185mm
Seat height: 780mm
Ground clearance: 175mm
Motor
Tailored motor by Bosch
Max power
3000W
Battery unit
Eve Lithium /18650
Voltage
60V
Capacity
35Ah
Top speed
75kmph
Range
Up to 140 km
Charging time
3.5 hours
Brake
Front: 220mm dual-piston Hydraulic Disc
Rear: 180mm dual-piston Hydraulic Disc
Tyres
Front: 90/90-12
Rear: 120/70-14
Tyre
Tubeless
Shock absorber
Front: Oil damping direct-acting shock absorber
Rear: Oil damping direct-acting shock absorber
The price of NIU NQi Gt is Rs 445,000.
4. Lvneng LX06 max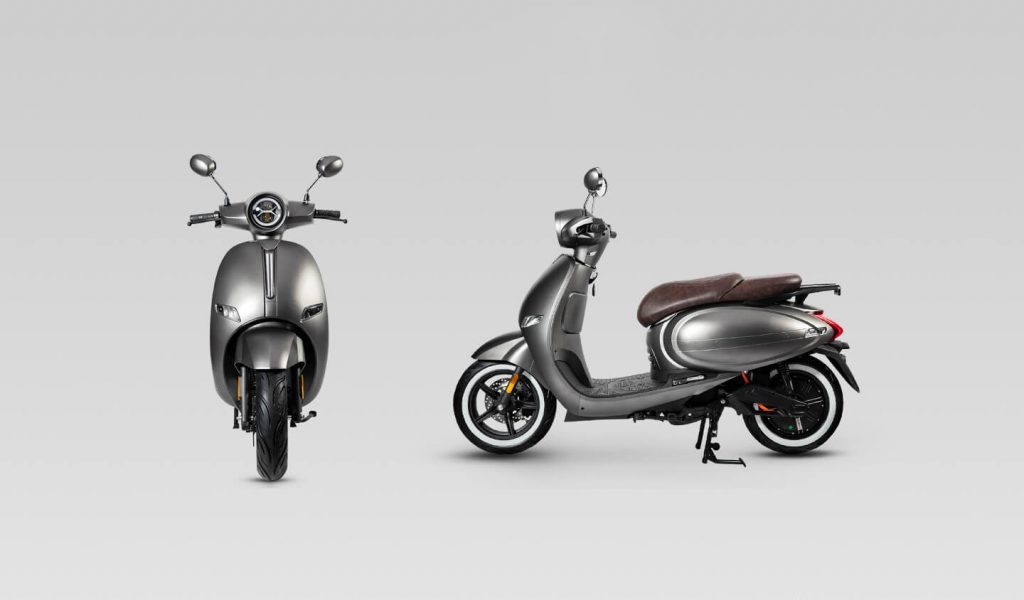 Lvneng is one of the very few companies to actively release various models of its electric scooters in Nepal. One of its latest releases, the LS01 3-wheeled scooter, was focused on elderly and differently-abled people which was really appreciable. Lvneng too has a lot of electric scooters for offering and among them, LX06 max is probably the best.
This is a classical-looking electric scooter. The paint job, design, build quality, and everything on the scooter is top-notch. The scooter is powered by a 4000W Bosch motor and has 60V26Ah portable Samsung batteries and the battery management is taken very seriously. There are 10 functions to ensure the safety and management of the battery.
LX06 max is a power-performing scooter with three riding modes. The scooter takes four to six hours to get fully charged. With a top speed of 90kmph, this scooter can give a range of up to 150km on a dual battery.
Specifications
Motor
Bosch
Dimension
Length: 1890mm
Width: 720mm
Height: 1110mm
Ground clearance: 150mm
Wheelbase: 1365mm
Rated motor power
4000W
Peak power
5Kw
Battery type
60V26Ah Samsung battery
Range
75km-150km
Charging time
4-6 hours
Top speed
Up to 90kmph
Brake
Front: Disc
Rear: Disc
Net weight
125kg (one battery)
Hill ability
13 degree (25%)
Tyre Size
90/90-12" Tubeless
The price of Lvneng LX06 is Rs 559,000 and there is a two-year warranty on the batteries on all its electric scooters.
5. Pure EV ePluto 7G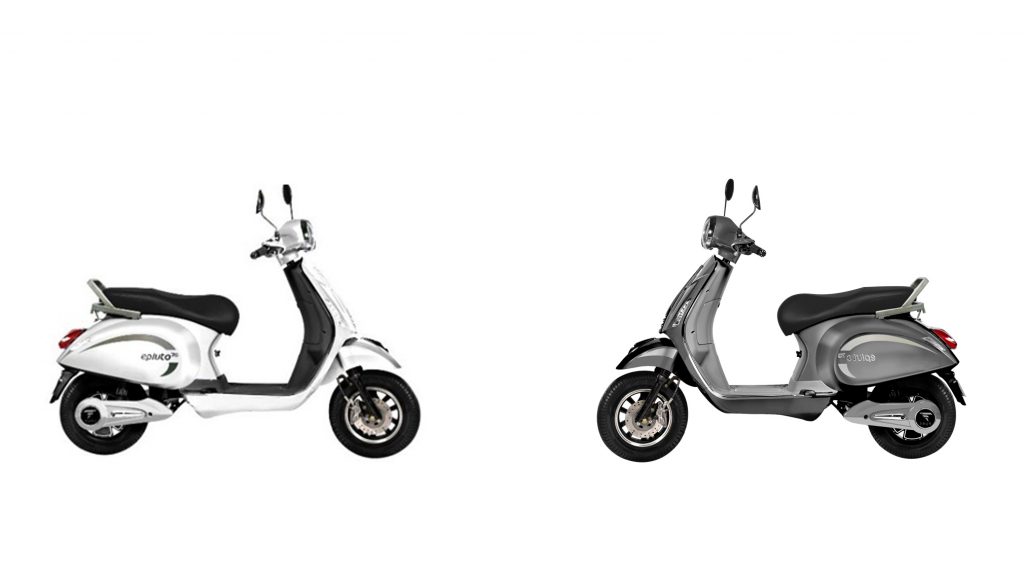 One of the most budget-friendly electric scooters on the list is Pure EV's ePluto 7G. This is a retro-looking e-scooter. With a rated 2200W hub motor on the board, this scooter can provide a range of up to 116 km when fully charged. The charging time can take between four and five hours.
It is exactly not a power performance scooter but for commuter purposes, it provides reliable performance. It can achieve a top speed of up to 60kmph and has a load capacity of 180kg. For safety purposes, it has a disc brake at the front and a drum on the rear. It also offers a regenerative braking system and portable batteries for the ease and convenience of the rider.
Specifications
Motor
Brushless Hub Motor
Rated motor power
2200W
Controller
60V 20 Tube vector looped
Battery
60V 2.5kWh Li-ion Portable
Charging time
4-5 hours
Battery casing
Metallic
Cells
NMC 18650 3C ultra performance
Battery management system
Smart active balance 50A
External charging port
Yes
Regenerative braking
Yes
Brakes
Front: Disc
Rear: Drum
Tyre
Front: 90/100 Rear: 3.00-10
Rim
Cast alloy
Range
116 km on a full charge
Top speed
60kmph
Kerb weight
79kg
Load capacity
180 kg
The price of Pure EV ePluto 7G is Rs 275,000.
Pure EV is also offering another electric scooter with the exact same specifications while differentiating only on the design. While ePluto 7G is more of a classical style, its other model Etrance Neo flaunts a sporty design and comes at a price of Rs 260,000.
6. Doohan Uranus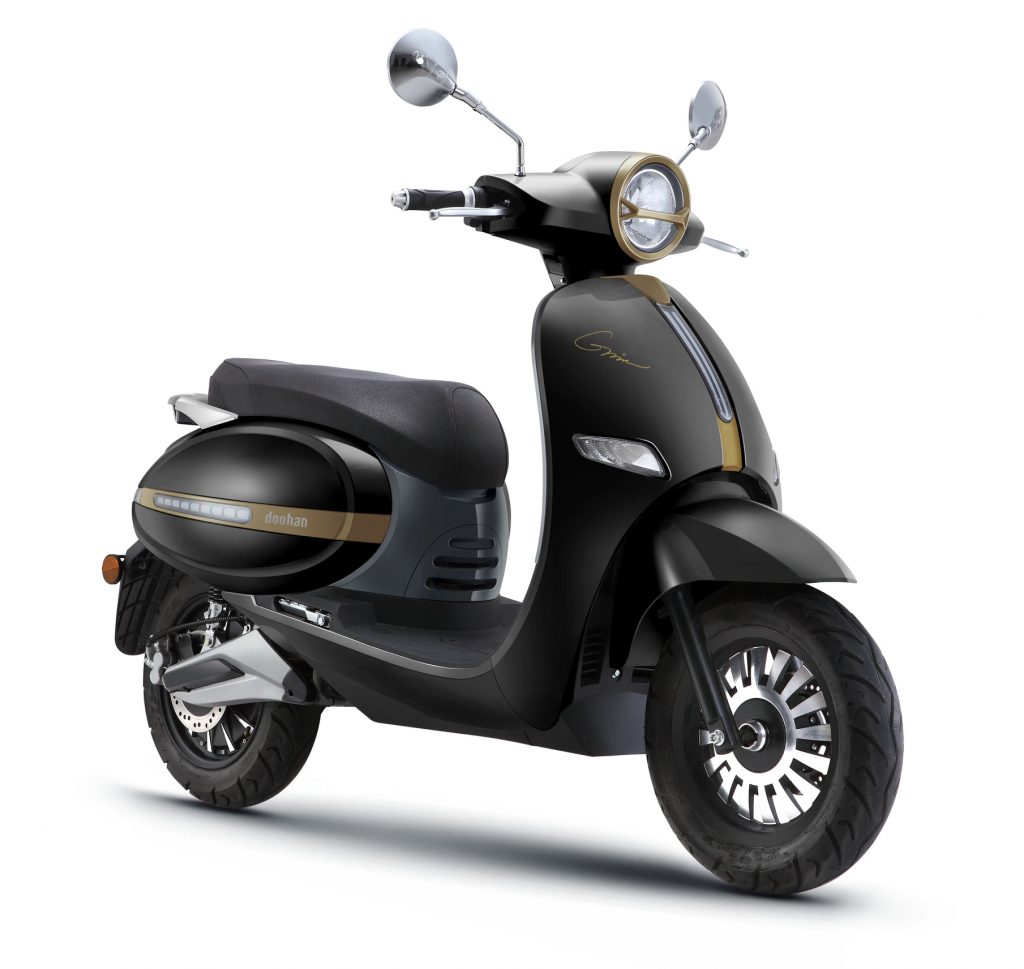 Uranus is the most sold and power-performing electric scooter from Doohan. It has a bulky and classic look and is probably one of the best looking electric scooters in the market at the moment. Along with a bulky look, the scooter also has a solid build. This is also a long-seated and extended-wheelbase model from Doohan scooters.
Uranus, as one of the best electric scooters, is powered by a DC Brushless motor with LG/Panasonic Lithium 72V 26Ah battery. It takes four to five hours per battery to get fully charged and gives up to 70-100 km per charge depending on the number of batteries. The scooter can achieve a top speed of 70kmph on a double battery variant.
Specifications
Motor
DC Brushless
Battery
LG/Panasonic Lithium 72V 26Ah
Power
3000 Watt
Charge time
4-5 hours per battery
Range
Up to 70kms (single battery)
Up to 100kms (double battery) 
Top Speed
45kmph (single battery)
70kmph (double battery)
Colours
Red, Black, White, Purple, Blue
Brakes
Front: Disc Rear: Drum
The price of Doohan Uranus is Rs 321,900. The company is also offering 1.5 years of battery warranty, motor warranty and one-year free servicing on all its electric scooters.
7. Hero Optima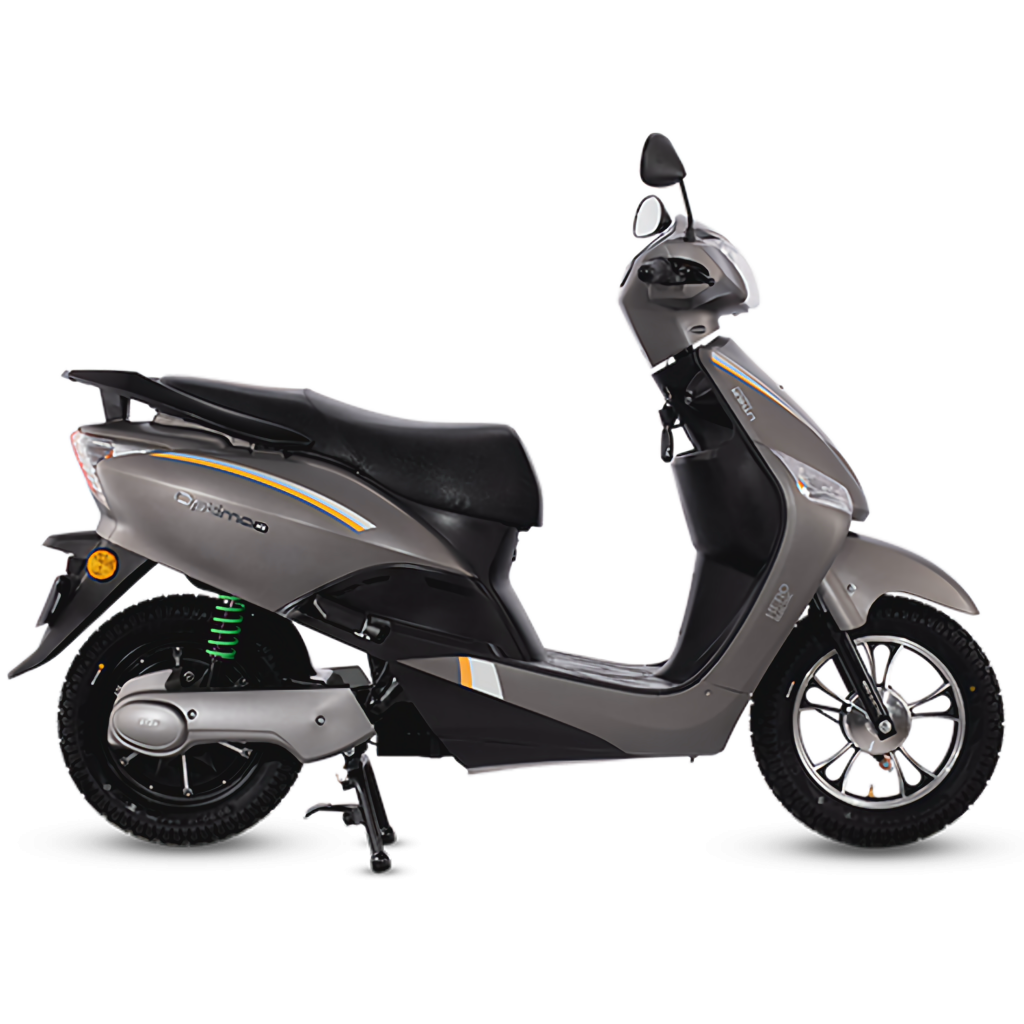 Hero electrics has recently made a comeback with three electric scooters in Nepal. The Optima is probably the best scooter among the three as it offers the best features comparatively. The scooter offers single or double battery variants. All the specifications of the electric scooters remain the same except for the weight, range and price.
The scooter weighs around 72.5 kg with a single battery and 83 kg with a double battery. The scooter is equipped with a 550/1200W motor that gets power from a 51.2V/30Ah portable battery. The battery takes around 4 to 5 hours to get fully charged and can provide a range of 82 km in a single battery and 122 km in a double battery. The scooter can achieve a top speed of 42 kmph and has a ground clearance of 150mm.
Hero Optima is equipped with 12-inch alloy wheels with drum brakes at both ends. It has a combi braking system and a regenerative braking system as well. The scooter also has a remote lock and anti-theft alarm system for further protection. There is also a USB port on the scooter and interestingly Optima also has a cruise control feature for the convenience of the rider.
Specifications
Motor power
550/1200W
Input voltage
51.2V / 30Ah
Charging time
4 to 5 hours
External charging port
Yes
Regenerative braking
Yes
Braking type
Combined braking system
Range
82 km (Single battery)
122 km (Double battery)
Top speed
42kmph
Kerb weight
72.5 kg (Single battery)
83 kg (Double battery)
Ground clearance
150mm
Wheel size
12-inch
Cruise control
Yes
The price of Hero Optima is Rs 209,600 for a single battery variant and Rs 309,600 for a double battery variant.
8. Segway E125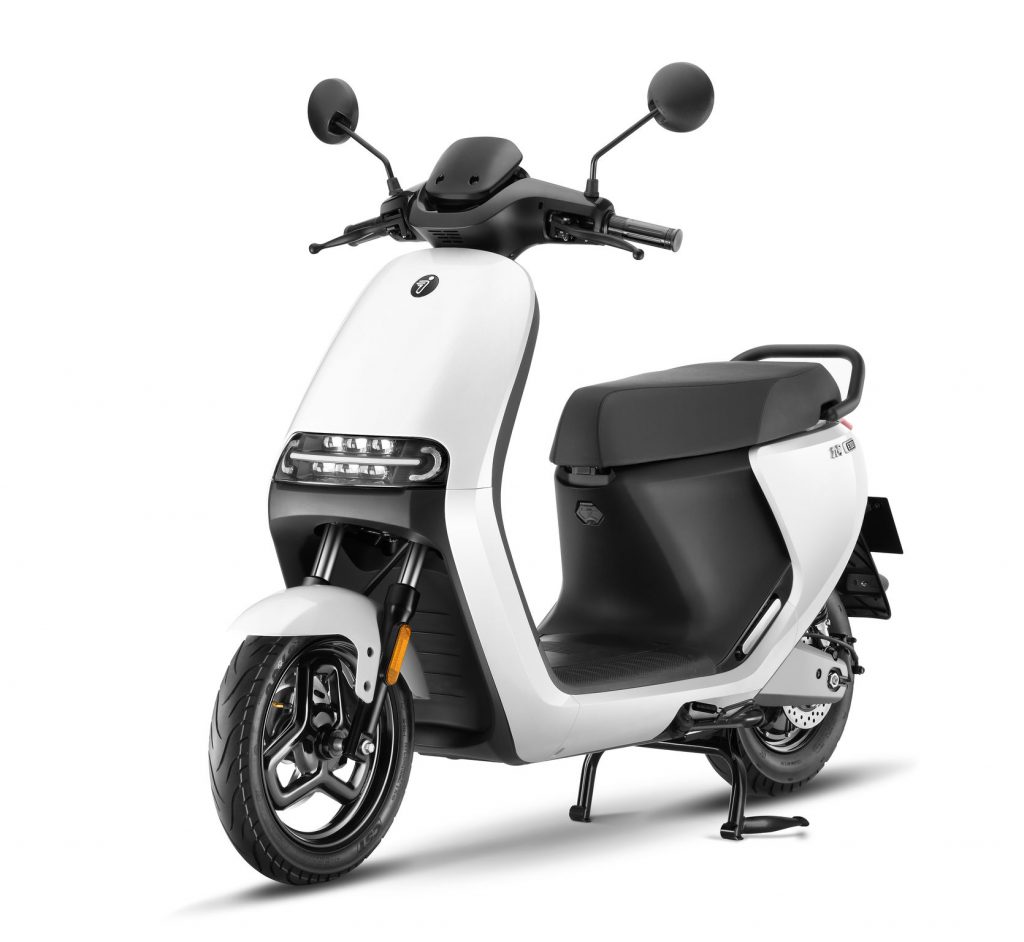 Segway, a global brand, has recently made its way to Nepal with two electric scooters and one electric Go-cart. Segway E125 is the best offering from the company right now. Designwise, it may not be so appealing as there are plenty of electric scooters that offer the same look and design, but it is the feature of this scooter that separates it from the rest.
This scooter has a keyless system and can be turned on with remote control. Similarly, the scooter also does not start if the side stand is still on. Segway E125 is powered by a 2,400-watt motor with a 74V27Ah (2000Wh) Lithium battery. It can generate a torque of 200 Nm while achieving a top speed of 75kmph with an expected range of 120km. It can take from four to six hours to get the battery fully charged.
Specifications
Weight
80 kg
Loading capacity
150 kg
Brake system
Front: Disc
Rear: Disc
Max speed
Up to 75Km9h
Motor
Tailored brushless motor
Rated power
2400 Watt
Max power
3600 Watt
Max torque
200 N.M
Battery unit
Tailored lithium battery
Rated voltage
72 V
Capacity
27 Ah
Range (Km)
60-100
Charging time
5-6 hours
IPX rating
IPX5 (Battery-IPX7)
The price of Segway Ninebot E125 is Rs 390,000.
---
Originally published on February 20, 2022