In December, police arrested Nepali artist, and rapper Ashis Rana, more popularly known as Laure, on the charge of a drug offence. Laure even accepted his involvement in drugs. After staying three months in police custody, he has been released on bail of Rs 50,000.  
However, once a drug addict artist has now decided to change his life. He has committed himself to staying detached from drugs. The artist now has also found a motivation to do so. Last week, he was appointed a facilitator and influencer of a week-long anti-drug campaign led by the Kaski District Police Office.  
The regretful decision
Born and brought up in Pokhara, western Nepal, Laure always had a dream to join the British Army to become a laure (a soldier working in a foreign land). Pokhara dwellers have a special and strong attachment to the job. Every year, hundreds of young people of Pokhara compete for the openings and Laure's aspiration was not an exception.
Among those hundreds of young men, some of them get selected and many get eliminated. He was also one of those who could not make it to the British Army.
The result shattered his dream. He was disheartened by his failure. However, as it is said, life goes on. Laure joined a college for higher education where he met friends who went under similar faith.
He even had a song entitled Sabai Ho Laure that depicts his feeling of being unable to join the British Army. 
"Those friends and I had similar pain. We used to share common feelings. Gradually, I started hanging out with them and started doing drugs," says Rana during an interaction session with college students in Pokhara City Hall on June 20.
"However, that is the most regretful decision of my life." 
Before getting into drugs, he had never smoked cigarettes. And with that, while he was in training for the British army, he even would not eat fried rice and skewered meat. Somebody had told him that they contain nicotine and they would affect his stamina. 
Call for caution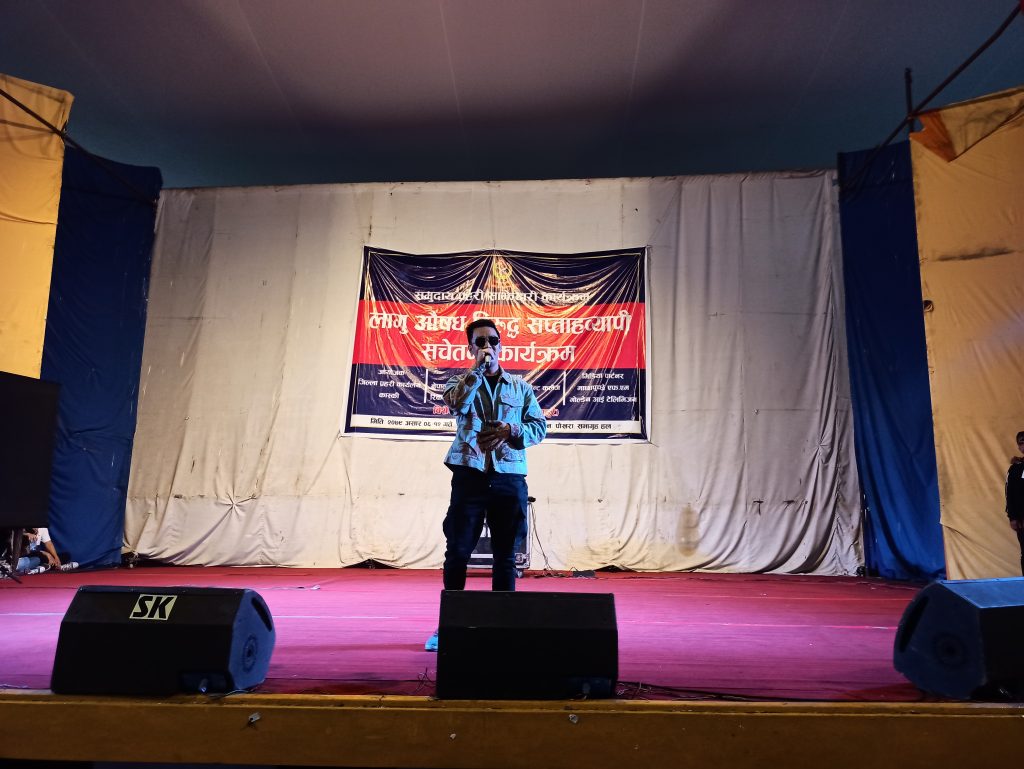 Laure further says to the student, "Currently you are at a similar age when I got involved in the wrong circle. You might probably go through the same situation. So I have come to share my thoughts with you." 
After he started doing drugs, his life became gradually chaotic and unmanaged. Due to the habit of using drugs, he even lost many national and international shows. "Consumption of drugs does not have advantages in life, they just bring disadvantages in your life," says Laure. 
"One should exit from its influence as soon as possible."   
He also talked about the misconception regarding drugs that are usually seen among the youth. "Many young people believe that the drugs would help them to focus on their work, but that is totally wrong," says Rana.
Moreover, one does not need to depend on anything else to bring the things out of their own mind, he adds. "Until you have courage in your heart and skill in your brain, you do not have to depend on anything else." 
Laure also says that drugs do not just create a single but a plethora of problems in life. The rap artist urges everyone to do productive things and motivate themselves to move forward in life.
—
This story was translated from the original Nepali version and edited for clarity and length.