Eight minute read. 
N. P. Upadhyaya (Aryal)
Kathmandu: The most unfortunate tragedy for Nepal is that it borders India and its international borders are "deliberately" kept open by the Delhi hawks-the defacto masters of current Nepali leaders.
India is a country born 1947 which discriminates its own minorities e.g. the Dalits, and the Muslims on religious lines.
India's born Muslims and the Dalits appear that they have no place in their own country and the fanatic Hindus trained by the Hindutva gang under the control of Prime Minister Modi more often than not hint the Muslims to either bear with the Hindu fanaticism or else make their final settlement in Pakistan-an Islamic Republic after the grand partition in 1947.
However, the genuine Indian Muslims claim that why they should take refuge in Pakistan as India is their country as much as for the Indian Hindus.
Just appreciate the bold utterances being at times made by Muslim Bollywood veteran actor like Nasiruddin Shah who alone in the film industry is braving the occasional stabbing and pinching onslaughts on the Islamic religion.
The three Khans notably Salman Khan, Aamir Khan and Sahrukh Khan have surprisingly acquired a mode of silence and, as the rumors have it, planning to quit India for good and settle in some nearby Arab countries.
This means that these Khans have been easily gulping the hatred against their Prophet as against their commercial interests? They are better taken as "commercial Khans" in Mumbai.
Perhaps yes.
However, Nasiruddin Shah among the millions and millions of "subjugated" Muslims in India is the real Muslim of all the timid Muslims.
The story begins:
We wish to begin with the "accurate and the factual" statement made by one India's Harvard scholar Professor Subramanian Swamy (a devout Hindu whose daughter Suhasini Haider is married to a Muslim gentleman).
Swamy sums up Modi's stint as Prime Minister of India. (sic), "During Modi governments eight years, Bharat Mata had to hang her head in shame because we crawled before the Chinese on Ladakh, knelt before the Russians, meowed before the American in QUAD. But we did Sastangam Dandvat (parallel to the ground submission) before the tiny Qatar. That was depravity of our foreign policy".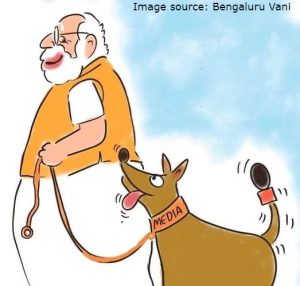 Nupur Sharma and Naveen Kumar Jindal, the two Bharatiya Janta party officials have stolen the show in India in a negative manner and their fresh notoriety has jolted the entire Muslims across the world more so the nearby Muslims in the Arab Countries plus in OIC conglomerate.
These countries have taken Indian BJP's hatred more so of Nupur Sharma and that of Naveen Kumar Jindal against the Muslims and their Prophet as an unpardonable affront to their Islamic religion and in a grand departure from the previous lenient posture on Indian regime; a few Arab nations have diplomatically threatened India to boycott Indian goods.
However, such threats have no meaning for the Rhino skinned Indian establishment.
And among the Arab countries who have taken serious note of the Modi's disciples' structured pouring in of venom against the Muslims and their Prophet is Qatar.
To add insult to injury, the accused Nupur Sharma says "PM Modi has said her that he and his entire BJP government is at her back so nothing to panic".
This does tell that whatever is happening in India against the Muslims is Modi's creation and is being brought to this level only under his personal investment.
Qatar and the rest of the Muslim countries, who have awaken from deep slumber perhaps shall halt to "decorate PM Modi with their country's highest awards and civilian medals" henceforth.
Nepali observers would suggest the Muslim nations to terminate the immigrant Indian nationals from their jobs which will only send "needed signals" to India or else trade and commerce shall hush-hush the entire hullaballoo.
A rough estimate claims that India drains some 87 Billion dollars as remittance from across the globe and half of it comes from 5 Islamic States: the UAE, Saudi Arabia, , Kuwait, Qatar and Oman.
The Hindu right wing in India takes away basic jobs from Muslims.
Some 8 to 10 billion $ are from Nepal as well.
Questions Ashok Swain in his June 7 Tweet: "Have they thought if Islamic Countries stop taking Hindu workers?
However, the termination of jobs should apply only to the BJP –RSS disciples who follow Hindutva ideology in order to malign the Muslims and their Islamic region.
Enters Qatari State: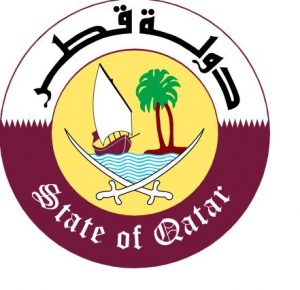 Reports say that Qatar was the first Muslim country to have reacted over India's mis-conduct and utterances made on the Prophet.
Soltan bin Saad Al-Muraikhi, the Minister of State for Foreign Affairs of the State, summoned the Indian envoy and handed over the note to the Ambassador of the Republic of India.
" The State of Qatar is expecting a public apology and immediate condemnation of these remarks from the Government of India, pointing out that allowing such Islamophobic remarks to continue without punishment , constitutes a grave danger to the protection of Human Rights and may lead to further prejudice and marginalization, which will create a cycle of violence and hate".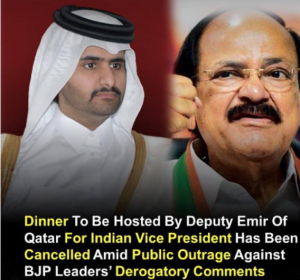 Taking a jibe at the now awaken Muslim countries, the Swedish Professor of Indian origin, Ashok Swain in his 7 June Tweet says, "why did it take a full 8 years for Islamic countries to wake up? Does only the Prophet matter to them, not the Muslims? Muslims were lynched, Muslims were losing citizenship. Mosques were demolished, and Muslim houses were bulldozed, but Islamic countries' rulers massaged Modi's ego".
Yes. Professor is right. Commercial interests prevailed over religio- interests.
Muslim countries surely are a divided lot and what is also for certain is that if these countries, the 57 countries block-the OIC-perhaps the Muslim countries can certainly make a difference to the global order even provided they unite.
India was insulted obliquely by tiny Qatari State when it summoned Indian Ambassador while Indian Vice President was on a trip to Qatar.
What was more than insulting and humiliating for the South Asian hegemon-India that when its Vice President was in a short trip to Qatar, the host country abruptly canceled a "dinner" that was to be hosted for the visiting Indian dignitary.
The elephantine India got unnerved by the tiny ant-Qatar.
This has meaning, as we understand. Let's call it "the art of Qatari diplomacy".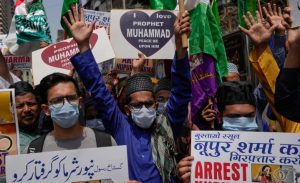 Qatar killed two birds with a single stone.
The regional elephant is a coward lot as it can't annoy the Muslim countries simply because Indian nationals working in these Gulf/Arab countries are draining the Oli-rich nations annually.
German dignitary in Pakistan:
India's bête noir and rival nation, Pakistan, got an excellent political opportunity around the time when two notorious Indian nationals close to PM Modi derided at the Prophet in a most bizarre manner some two weeks ago.
The visiting German Foreign Minister Annalena Baerbock to a query in Islamabad, June 7, 2022, said she supported resolution of the Kashmir issue in accordance with the U.N. resolutions.
She said that a constructive approach and confidence building measures between Pakistan and India were key to improvement of their bilateral ties and solution of the issue, implied Kashmir.
Kashmir issue thus is getting more and more internationalized/pronounced as against the Indian stances.
A world News TV dated June 10, reports, "The Diaspora (UK) braces up to intensify Kashmir campaign across Europe". UK also has pro-Khalistan group.
This news has come at a time when German Foreign Minister Annalena Baerbock too has spoken on Kashmir issue while being in Pakistan just last week.
However, the foreign minister said the international community must immediately take notice of the increasing incidents of alleged persecution of minorities and rising tide of Islamophobia in India.
Citing the recent "provocative and sacrilegious statements" by the BJP leaders, Mr. Bilawal said that such "outrageous and highly condemnable statements had hurt the sentiments of the Muslims all over the world," state-run APP news agency reported, reports the PTI –Hindu Daily dated June 8, 2022.
The way entire India is boiling over the derogatory remarks made by Nupur Sharma and Naveen Kumar on the Prophet, its spillover effect is also seen in Nepal when a considerable size of Muslim population residing in Birganj-a Nepali town bordering India in the South, came against the BJP's functionary thereby hinting that India's BJP sponsored religio-fanaticism may destabilize even Nepal.
Very freshly, Nepalganj peeople too came out in support of Nupur and Jindal-India.
As was expected, the Hindus hailing from Birganj, came to the streets in support of the Nupur Shara and Naveen Kumar's speech which means that the stage is set for a upheaval in nepal sooner than later.
Reasonable Hindus in Nepal opine that Nepal must refrain from doing any act that disturbs the religio-communal harmony in Nepal and that too for an issue that has erupted across the border.
The demonstrations was held in front of Indian Consulate there which has been opened in Birganj to eye on Nepal and make easier the influx of the Indian immigrants to Nepal.
It is these down trodden Indian nationals who later will ask, as is being experienced, for the Ministerial status in India controlled Nepal- a defacto protectorate.
This way India is invading Nepal each day and round the clock.
The Sikkimi fate Nepal is waiting for sure.
The BJP controlled affiliates in Nepal have already come in favor of Ms. Nupur Sharma's somewhat erratic statements.
Most strikingly, during the span of a mere two months, the US has scolded India twice for failing to observe "religious tolerance".
Rhino skinned India remains undeterred.
While US Secretary Antony Blinken made some harsh comments on India in front of the Indian foreign minister in Washington in last April , then very freshly Blinken on June 2, said that "in India, the world's largest democracy and home to a great diversity of faiths, we have seen rising attacks on people and places of worship". He was speaking at an event organized for releasing the state department's annual report on international religious freedom (IRF).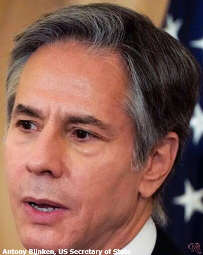 Antony Blinken said, reports Manila Times, June 4, 2022 that "some Indian officials have supported attacks against religious minorities, in a rare if indirect criticism of the record of its emerging ally".
The US by aligning with thug India on "strategic grounds" is damaging its democratic credentials.
"In India, some officials are ignoring or even supporting rising attacks on people and places of worship," Rashad Hussain, the US ambassador at large for international religious freedom, added.
This is unfortunate.
The Nupur Sharma's insulting remarks on Prophet has also drawn the attention of some leaders in India, for example, Mamta Banerjee.
She Tweets, June 9, 2022: "I condemn the recent heinous and atrocious hate speech remarks by a few disastrous BJP leaders, resulting in not only spread of violence but also division of the fabric of the country, leading to disturbance of peace and amity".
I am reminded of once again veteran writer Khuswant Singh who says in his book "The End of India" that "these are dark times for India….Carnage in Gujrat….India far from becoming Mahan (great), India is going to the dogs, and unless a miracle saves us, the country will break up: it will not be Pakistan or any other foreign power that will destroy us; we will commit hara-kiri"….but the rise of religious fundamentalism among the Hindus threatens our democracy and everything…..The country will break us . It will not be Pakistan or any other foreign powers that will destroy us; we will commit hara-kiri".
Looking at the way, India is boiling at the moment after the Nupur and Naveen Jindal's hatred on Islam and the Prophet, one is forces to ask oneself "has the end of India approached already as per Khuswant Singh?
Draw your own conclusions. I think India should be socially boycotted across the globe.
Enters Ashok Swain again: Being born as a Muslim in India has become the worst crime under Hindu right wing regime! Muslim fakirs are being beaten up, abused, and forcibly chanting 'Jai Shri Ram' in UP, India. (Tweet June 8).
Now if and when India ends, Yeti Narsinghanand's inflammatory hate speeches will be one of the main causes of India's end.
In April, 2022, at the Press club of India Swamy made highly rabble rousing remarks against the Prophet Mohammed and Islam which created uproar in Social media, however, no penal actions were taken against the Swamy.
He continues to spew venom against Islam, Prophet and Muslim".
Zee News June 9, 2022 reports that the seasoned Indian actor Naseeruddin Shah recently spoke about the ongoing controversy related to Prophet Mohammad amid BJP leaders' derogatory remarks leading to a diplomatic blowback India received from Gulf nations. The veteran actor hopes that good sense will prevail and the 'hate wave' against Muslims will dissipate soon".
Veteran actor Shah says, "I would appeal to him (PM) to knock some good sense into these people. If he believes what was said at the 'Dharam Sansad' in Rishikesh, then he should say so. If he does not, then he should say so,"
Actor Shah perhaps forgets the fact that whatever is happening in India against Muslims and the Prophet, all sad incidents have tacit encouragement from the Hindu Prime Minister Modi.
Shah is asking the absurd.
"To Hindu nationalists, Indian History is essentially black and white; that Muslims were invaders who destroyed the country, and the Hindus and their religion were the victims", summarizes the The New Arab in an article, June 10, 2022, titled "Hindu nationalism is threatening India's diverse history.
Suhasini Haider June 10, wrote, " social media in Arab countries began running reaction to the comments, calling for a protest against PM Modi, and a boycott of Indian goods unless there was an apology or action. While this was not too worrying, the first sign this was turning into a theological issue was when the Grand Mufti of Oman Tweeted about it on June 4. The Al-Azhar university in Cairo condemned the comments next".
This amply proves that the Arab world has taken the insult of their Prophet in a grave manner.
By the way, Suhasini herself is married to a man who is a Muslim by birth.
The General Secretary of the Organization of Islamic Cooperation on June 6, 2022, has targeted India for its recent venomous attack on the Prophet by stating that "these cases of defamation are part of a growing spate of hatred and defamation of Islam in India.
Slamming India on the issue of the Gyanvapi Mosque row where Muslims were allegedly forced out of the Mosque and were not allowed to pray, the 57 member states OIC grouping called on the Indian authorities to ensure the safety, security and well being of Muslims in India and protect their rights as well as religious and cultural identity, dignity and places of worship".
The reaction in Pakistan: Naturally, when Islam is being challenged then obviously its backlash upon the Hindus is inevitable.
In Pakistan and Bangladesh some sad events have happened which is sure to upset the Hindus in India and Nepal.
However, as it is backlash of what is happening to the Muslims and Islam in India, so the Hindus too must be prepared to bear the hatred from the Muslims in the Islamic nations.
Writes Taslima Nasereen June 10, 2022, "the idols of deities at Shri Mari Maata Mandir in Karachi's Korangi Area were attacked recently. Not only in Pakistan, but intolerance is also growing in Bangladesh. Muslims must learn to live with Non-Muslims and respect them as Humans."
Perhaps this applies to Hindus as well equally.
Sagarika Ghose writes for the NDTV, India, June 10 " Is the Modi-Shah led BJP4India a party of religious fanatics, bent on violence against minorities? Or is it a party of governance and inclusive values?
All woven together and if per chance, India ends, the end impact shall be heavily felt in Nepal for a variety of political reasons more so due to the forcibly kept open border phenomenon.
In that eventuality, Indian media too shall be held responsible.
Let's leave India to chart its own future. That's all.