South Asian Regional Affairs: 
N. P. Upadhyaya (Aryal)
Kathmandu: Two ministers in the same Pakistani cabinet possess two different views on India occupied Kashmir.
If the first one is flexible but the other rather appears fairly strong and adamant.
While the senior minister rank wise has a soft tone towards the rival nation-the Indian establishment then the junior minister has a different posture on India which to a greater extent appears close to anger.
To cut the story short, the Pakistan Foreign Minister Bilawal Bhutto-Zardari says that "he is hopeful that a day will come when his country will be able to engage with India diplomatically as well as economically".
He recently said that "Aaaj nhin to kal", a day will have to come soon. That day we will unlock our full economic potential, and all will share the fruit of prosperity".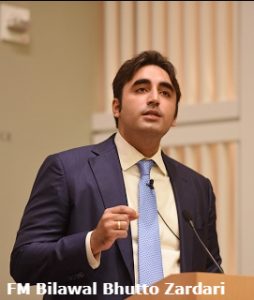 Implied is his (Bilawal's) desire is to build peace with India and that he hopes that one day, better late than never, peace will prevail.
It is said that Zardari-Bhutto's and Sharifs of Pakistan possess a bit of Indian bend.
Look what he said of recurrent conflict with India on Kashmir and on so many issues.
FM Bilawal Bhutto said, May 25, 2022, while speaking at the annual Pakistan Breakfast session in Davos, organized by Pathfinder Group and Martin Dow Group on the sidelines of the World Economic Forum Annual Meeting 2022 that "that a day will come when his country will be able to engage with India diplomatically as well as economically".
Zardari, however, asserted that Pakistan will never compromise on its national interest whenever it engages with any other country diplomatically or economically.
FM Bhutto appears ready and a bit merciful to live in peace with India but at the same time reiterates that "such an engagement with India" will not be at the cost of Pakistani national interests.
He says, "Pakistan shall not compromise, however".
This analysis brings us all to conclude that Bilawal would very much want peace with India but without compromising Pakistani core national interests and structured policies".
This then again means that FM Bilawal has both carrots and sticks for India.
But the manner with which Bilawal lambasted at India over Occupied Kashmir issue and also his outbursts made recently in New York against the UN body more so to the United nations Security Council which had miserably failed so far in bringing to implementations the "resolutions" that the UNSC body had made some seven decades ago on holding of an impartial and a fair plebiscite which shall allow the people of Occupied Kashmir to decide their fate as to whether they prefer to live with India or Pakistan.
The new Pakistani foreign minister though would like "friendship" with neighbor and traditional enemy since the partition days, but concurrently hints that relations with India is bit what he calls "complicated" one.
What he means by the use of the term "complicated" is not known nor Bilawal at best has explained it, however, observers in Nepal guess the "complication" could be, the non-resolution of the Kashmir issue and the second complication may be "India being excessively "Islamophobic" and the country possessing profuse "hatred against Indian Muslims".
The third could be the "dis-information Lab" that India is which disseminates "manufactured news of hatred against Pakistan and the smaller neighbors of India" which in many more ways than one damages the credentials of these countries whose borders are contiguous to the Indian regime.
Enters Hina Rabbani Khar:
Now that Bilawal Bhutto possesses some soft corner for the Indian regime and hopes that someday, the estranged ties in between India and Pakistan would be normal with the solution of the irritant Kashmir issue, then concurrently the deputy foreign minister of Pakistan Ms. Hina Rabbani Khar speaking in Davos, Switzerland struck a slightly different note on Kashmir issue taking the overly stretched Kashmir dispute as an "elephant in the room" and any, Khar says, efforts to integrate South Asia and boost trade would be futile without resolving the seven decades long dispute.
She means the "elephant in the room needs to be removed first in order to restore friendly ties with India-the immediate neighbor of Pakistan.
Minister Hina made this somewhat unusual but hard-hitting statement while speaking during a session on "Strategic outlook on South Asia' at the World Economic Forum Annual meeting 2022, May 24, 2022.
She was replying to some of the questions posed to her at the World Economic Forum (WEF) meeting.
Talking on Kashmir issue, the State Minister for foreign affairs Khar observed at the Davos meet stating, " I did not want ….to go in detail…as it is an economic debate…but it is an elephant in the room and you can't ignore it."
She claimed, as per newsnine dated May 26, 2022, her party when in power earlier had made a lot of efforts to normalize ties with India, including her visit to India in 2011, inking of a visa agreement as well as opening up of trade".
Moreover, as the global leaders debated the Ukraine crisis, writes PTI dated May 24, 2022 (The Hindu) and condemned Russian Aggression, Ms. Hina Rabbani Khar said the world has reached an inflexion point where every country was being asked to choose sides or getting branded as being on the opposite side.
She mentioned this while speaking at the session of geopolitical outlook at the WEF meet 2022, as stated earlier.
To yet another query by a panelist as to why India was more worried about China than Pakistan now, Ms. Hina replied," I look at China obviously as an immediate neighbor and also as a part a "broader region" that we all belong to and that "at the same time, I wouldn't celebrate India's antagonism towards China, pretty much in the same way that I would not celebrate anyone's antagonism towards anyone else at all".
However, while Hina was all praise for China-Pakistan's immediate neighbor, then around the same time the US Secretary of State Antony Blinken said that " China poses 'the most serious challenge to the international order".
This explains how China is being perceived by two nations: Pakistan and the US.
Choices differ with the proximity and assistance.
While China is intrinsically linked with Pakistan through the mega project, China-Pakistan Economic Corridor.
And the US very recently is trying to "reset" its deteriorated ties with Pakistan which, in the eyes of the US, got damaged by the freshly ousted Pakistan Prime Minister Imran Khan.
Here again, Hina's preference for China is clearly visible.
China though is a strong partner for Pakistan while it is not a reliable partner neither for Nepal nor for Sri Lanka.
India must have been shocked when the regime listened to the word "China as a part of the broader region".
Hina Rabbani perhaps wants to signal India that China too could easily be taken as a country not that far from the South Asian region where we all belong to.
A clear message for India from Pakistan and that too from an European soil.
This must have meaning underneath.
Adding needed and timely weight to Bilawal and Hina Rabbani's statements on Kashmir, the new Pakistani PM Shehbaz Sharif, May 28, 2022, too "called upon India to restore article 370 in Jammu and Kashmir for the durable peace in South Asia and that India should reverse August 5, 2019 move in Kashmir".
In his inaugural address, Shehbaz invited India saying that "why do we want our coming generations to suffer? Come let's resolve the issue in line with UN Resolution and Kasmiri's expectations to end poverty on both sides' '.
India on the other hand, claims the disputed issue of Kashmir to be its integral part and thus has been influencing the UN body not to implement its own promised resolutions for a plebiscite which allows the Kashmiri people to decide their own fate as to whether they wish to live with India or Pakistan.
For Pakistan, Kashmir is a disputed territory but not an integral part of India.
But India is adamant.
This reminds us of a famous quote by President Franklin D. Roosevelt: "Repetition does not transform a lie into a truth".
This again reminds us of what the French scholar Voltaire says, "Those who can make you believe absurdities, can make you commit atrocities".
How much these two famous quotes fit into the acts of the current Indian regime that is a declared Islamophobic is any body's guess.
The highly Islamophobic Indian regime could take learn much from Indonesia, Tweets CJ Werleman in the recent days.
Werleman Tweets, "Hindus and Muslims live together in peace and harmony where there doesn't exist the Nazi inspired Hindutva ideology.
For the record, in Indonesia 90% are Muslims, Hindus 2% and temples 11 thousand. Have you heard of any riots out there ? No, because there is no communal organization. Most interestingly, writes Werleman that there is a picture of Ganapathi in the (bank) notes.
CG Werleman is an activist against Islamophobia and a correspondent for Byline Times.
On a different note, Mehbooba Mufti, a Kashmiri leader of PDF tweets, (ANI-May 22) "A man was lynched in Pakistan; they sentenced 6 people to death by hanging and 12 others to life imprisonment. Several Akhlaqs have been lynched here (India) after 2015. They are garlanded, not punished. That's the difference b/w their judiciary and this judiciary".
In conclusion:
The Kashmir issue is being raised by the new Pakistan government which must have built pressure on India and the UNSC Body both.
Bilawal alarmed the UN Body in New York and much ahead of this, he wrote a letter to Hissein Brahim Taha- the Secretary General of the Organization of the Islamic Cooperation ( OIC), May 13, 2022 and held a telephonic talk appraising the OIC that the so-called delimitation commission has validated the worst fears of the Kashmiri people that the BJP government in India sought to disempower and disenfranchise them by altering the demographic structure of IIOJK with a view to converting the Muslim majority into a minority".
In addition and for record, "the UN Human Rights Council has issued two reports over massive human rights violations in IIOJK in 2018 and 2019.
For the record, on June 14, 2018 United Nations High Commissioner for Human Rights published a report over human rights violations in Kashmir.
The report called for international access to Kashmir "on both sides of the Line of Control" to investigate allegations of human rights violations.
Dr. Muhammad Khan in an article published by the Pak Observer dated may 30, 2022, writes that the "International jurists and experts of international law are of the opinion that the Kashmir dispute can be referred to International Court of Justice (ICJ) with respect to the massive human rights violation, committed by Indian occupation forces in occupied Kashmir.
The Kashmir dispute needs to be sorted out as this issue has the potential to destabilize the entire South Asian region-obviously Nepal included.
Fear is that any upheaval in Kashmir may force the Kashmiris to enter into Nepal through the porous border.
That's all.
Our contact email address is: [email protected]