(With the help of Jessica Meir and Martin Jelen)
-Martin Jelen is a Space Expert from NASA
Ace Collymore,
Canada
Listen to this article: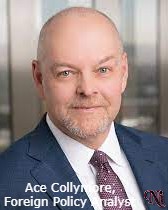 The 26-year-old electrical engineer was selected from 7,000 applicants. Katya Echazarreta will join the "Blue Origin" space mission funded by Jeff Bezos.
Born in Guadalajara, Mexico, Katya Echazarreta, who moved to the United States at the age of seven, has been selected from a pool of 7,000 applicants by nonprofit organization Space Humanity to participate in "Blue Origin," the space mission funded by billionaire Jeff Bezos.
Blue Origin officials say the 26 year-old Echazarreta, who has considerable experience as an electrical engineer, will serve as a citizen science astronaut on behalf of Space for Humanity, a Denver-based space exploration interest group.
She said that she's faced barriers while working her way up as an engineer in the space industry because of her gender and the country she was born in.
Katya Echazarreta is the first Mexican-born woman to fly to space.
Space for Humanity:
"I think the biggest [barrier] has been just a lack of belief in big goals and big dreams," Echazarreta said.
"I've had to essentially keep a lot of these things secret because as soon as I mentioned anything like: I want to be an engineer, I want to work at NASA, I want to go to space, I want to be in the space industry, all I heard around me was, 'No, you can't do that,'" she said.
When Katya learned last month that she will be making the trip, she put her hands on her face, laughed, cried, then told an interviewer, "My mom is going to freak out …"
She later told a second interviewer that her mom "is so excited that she tried to go and get T-shirts made, she's trying to find some matching rings for her, my sister and I, that I can take to space and get them engraved. She is just over the moon right now."
She will become today's in a long list of human beings with San Diego ties to journey in space. In only a few years three UC San Diego graduates — Megan McArthur, Kate Rubins and Jessica Meir (Author's close friend) — served on the international space Station as NASA astronauts.
With this flight, Mexican parents can no longer tell their young daughters they can't travel to space.
Instead, she said, they'll have to respond: "You can do it, too."
-Thanks Jessica Meir and Martin Jelen: Ed. Upadhyaya.
# Our contact email address is: [email protected]