Katrin Fidencio, San Diego, USA
The United States is committed to being engaged in Southeast Asia, President Joe Biden has said, welcoming a summit with leaders of the 10-member Association of Southeast Asian Nations (ASEAN) in Washington, DC, as a "novel era" in relations.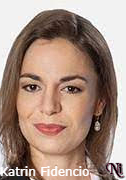 Speaking on the second day of the two-day meeting, Biden told the leaders on Friday that "a great deal of the history of our world in the next 50 years is going to be written in the ASEAN countries".
Vice President Kamala Harris told the leaders that the Biden administration "recognizes the vital strategic importance of your region, a role that will only grow with time".
"As an Indo-Pacific nation, the United States will be present and continue to be engaged in Southeast Asia for generations to come," she said.
While Russia's invasion of Ukraine was on the agenda, the Biden administration hoped to demonstrate that Washington remains focused on the Asia-Pacific as Beijing becomes an increasingly powerful player in the region.
By Jeff Mason, David Brunnstrom and Michael Martina for the Reuters dated May 14 report that "On Ukraine they reaffirmed "respect for sovereignty, political independence, and territorial integrity," wording that a regional expert said went further than past ASEAN statements.
The statement did not condemn Russia by name for its Feb. 24 invasion.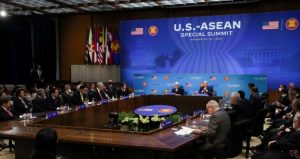 This is interesting indeed.
The war in Ukraine has tested those already shaky ties, with senior US officials including President Joe Biden himself repeatedly warning the Chinese government against aiding Russia in its continuing invasion.
The opening session of the ASEAN meeting at the Department of State on Friday focused on maritime security and health issues, Harris said, while a later one was centered on climate and clean energy.
She did not mention China directly, but said the US stood with its "allies and partners in defending the maritime rules-based order, which includes freedom of navigation and international law".
ASEAN countries share many U.S. concerns about China's assertiveness, including its claim of sovereignty over vast swaths of the South China Sea where several have rival claims.
However they remain cautious about siding more firmly with Washington, given their predominant economic ties with China and limited U.S. economic incentives. Some, like Vietnam, Laos and Cambodia, have residual historical ties to Russia.
ASEAN states have been frustrated by a U.S. delay in detailing plans for economic engagement since Trump quit a regional trade pact in 2017.
Biden announced the intention to create IPEF, Indo-Pacific Economic Framework at a virtual summit with ASEAN leaders in October.
"On the global issue, I would like to reiterate the very consistent of the principle of Indonesia on the importance of respecting territorial integrity and sovereignty of a country to another country," said Marsudi, according to a Department of State readout."Our hope is to see the war in Ukraine stop as soon as possible, and we give the peaceful resolution of a conflict a chance to succeed. Because we know that if the war continues, all of us will suffer."For his part, Blinken thanked Retno Marsudi for Indonesia's leadership in the region.
Marsudi is the foreign minister of Indonesia.
"We are working together across the board to advance a shared vision of a free and open Indo-Pacific region. We're working to strengthen economic ties among countries in the region. We're working together to deal with global challenges, like COVID-19," he said.