Climbing the Lhotse south face has been in South Korean climber Hong Sung Taek's mind for over two decades. What started as a dream in 1999 has now turned into an obsession as he is back in Kathmandu this mountaineering season, preparing to make his seventh attempt at climbing the south face of Lhotse which has not been climbed since 1990.
"The wall on this mountain has tested me both mentally and physically. But, I know that I can do this and I believe the team I've assembled will be able to do something that's not been done in 30 years," says Hong.
The tough task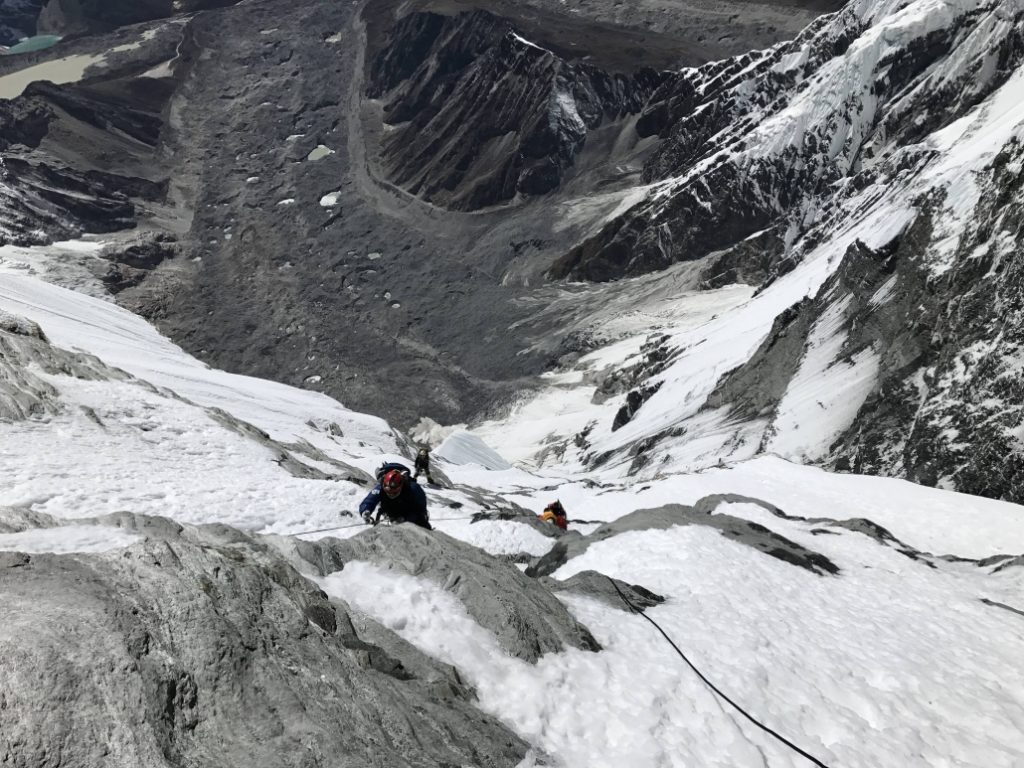 Hong knows it is not going to be easy. He is aware of how brutal the 3,200-metre vertical wall of the Lhotse south face is. The wall, which has an average slope of 75 degrees, has only been successfully climbed once by Russians Serguey Bershov and Vladimir Karataev in 1990. Prior to that, legends like Jerzy Kukuczka and Reinhold Messner have tried and failed to reach the summit. Kukuczka lost his life on the mountain.
But, despite the risk at hand, Hong seems more determined than ever. To him, doing this route will be nothing short of remarkable. Taking all other attempts in mind, he seems positive. He has assembled a team of strong climbers from Korea, Spain and France as he aims to recreate history.
His first attempt on the mountain was in 1999. Having climbed Shishapangma and Everest, he set his sights on Lhotse. But, he did not want to do the normal route.
"I was young and wanted to prove a point to myself. But, due to lack of experience and know-how about the mountain, I was only able to get to around 7,000 metres," says Hong.
A lack of human resources also played a part in 1999. But he did not give up his dream and came back in 2007. That year, he reached the Lhotse Shar with a team of strong Korean team led by Um Hong Gil. 
"The project was different then," he says.
Confidence vs competence
By 2013, the Lhotse south face had become his obsession. He was really confident as he had reached all the Three Poles. He climbed Everest in 1995 from the Tibetan side while he skied to the South Pole in 1994 and walked to the North Pole in 2005. Hong also crossed the Bering Strait and Greenland for the first time. He was on a roll, but the Lhotse south face still eluded him.
He came back in 2013 and failed. He returned in 2014 but failed again. He faced the same fate in 2015.
"It is discouraging. The weather is completely different on this side of the mountain and it's frustrating," says Hong.
After a hiatus of a few years, he returned in 2019. He was certain that after all these years of not reaching the summit, he had a chance to make a win over the Lhotse south face. He was less than 300 metres from reaching the summit, but harsh winds stopped his summit bid.
"It was hard. I was sobbing and praying in the white moonlight of the Lhotse south face to go to the top. The weather didn't want me to climb," he told Explorer Web.
During that summit bid, he battled avalanches and the sheer verticality of the 3,300m wall and managed to reach 8,200m. All he needed was 72 hours of decent weather, but it was like the mountain did not want him to climb. The winds got stronger and the snow was continuous.
"I knew I had to go back down and come back again," he says.
Hoping against hopes
He was disappointed but the stubborn man he is, he is back. Fitter than ever, he has assembled a team of eighth climbers who will help him during the Lhotse south face journey. Joining him are Nakjong Seong, Jae Chul Kim and Jorge Egoxheraga Rodriguez who have been with him on the mountain previously. Apart from them, his team also has Frech alpinist Vadim Primin Druelle and Koreans Myung Suk Koh, Byoung Tae and Jupil Park.
"The team is strong and determined. Everyone is driving," he says.
Rodriguez who joined him in 2015 and 2017 says he is looking forward to going back to the Lhotse south face.
"What makes it a tough climb is this side of the mountain is very technical. It pushes you to the limit because you have to climb from the first step. The weather on this side is very unpredictable too and since there aren't many platforms to pitch tents, we have to work extra hard here," says Rodriguez, who has climbed all 14 eight thousand-metre peaks in the world.
Rodriguez says that even though they have been on the mountain, they still cannot prepare for the Lhotse south face as the condition on the mountain changes every year. And to successfully climb the mountain, they need everything to work in their favour.
"We need all factors, the weather, snow conditions and wind to help us," he says.
Druelle, however, is excited about the Lhotse south face climb. He knows there are risks in climbing such a tough wall, but he knows that with teamwork, it is possible.
"I am scared. I think it's better to be scared because it keeps you on your toes. That said, I believe we can do it," says Druelle.
This is the confidence Hong needs. He believes that the team has advanced climbing techniques that will come in handy during the climb.
"The Lhotse south face is another great Himalayan adventure that has eluded many mountaineers and with help of my team and Nepali support staff, I hope I can achieve it," says Hong.