Kathmandu, March 10: The Embassy of Pakistan organized the closing/prize distribution ceremony of the 7th Annual Nepal-Pakistan T-20 Cricket Tournament.
A total of 12 teams including different Nepali Cricket Clubs participated in the 9-day cricket tournament.
R S Widyaith Cricket Club won the tournament while Nexus Cricket Club was the runner-up.
Mr. Ram Prasad Thapaliya, Secretary Land Management, Cooperatives and Poverty Alleviation of Nepal graced the occasion as the Chief Guest.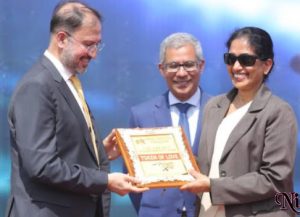 Special guests at the occasion included H.E. Mr. Salahuddin Noman Chowdhury, Ambassador of Bangladesh to Nepal; H.E. Ms. Himalee Arunatilaka, Ambassador of Sri Lanka to Nepal; and Mr. Roshan Singh, Treasure, Cricket Association of Nepal.
Addressing the occasion, Mr. Thapaliya lauded the Embassy's efforts in organizing this annual event and pointed to the huge potential for further developing bilateral relations between Pakistan and Nepal through organizing such sports events.
Addressing the event, H.E. Ambassador Syed Haider Shah expressed his satisfaction at the growing popularity of this annual event among Nepali youth.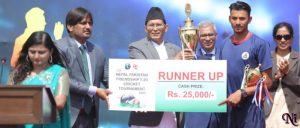 He said that the tournament was a testament to the cordial and friendly relations between Nepal and Pakistan.
The Ambassador also reiterated the commitment to continue such events to bring the youths of two countries together and to further strengthen people-to-people contacts between Pakistan and Nepal.
# Based on a press release issued by Pakistan Embassy in Nepal dated March 10, 2022. : Ed. Upadhyaya.